Е, Ё: ...
З: ...
У: ...
Э: ...
Ю: ...
Я: ...
---
Родственные проекты:
---
Abkhazia
Legal basis of statehood and sovereignty
Chapter I. Abkhazians - ancient ethnos with original culture
1.4. Who are "Georgians"?
As follows from the scheme of ethnic continuity of the people of Transcaucasia, the term "Georgians" has no connection with the people of this region­. Since XIII century in Persian and Arabian documents devoted to this region, there has been a term "Gurdj" 4 which historians of XVIII and ­ later centuries transform into "Gurzan", and the country where they live is called "Djurzan" or "Gurzan". The country of Gurdjes is located geographically in the areas Tao-Klardjeti and along the southern Black Sea coast, and its main town, Artanudj, is nowadays a Turkish city.
Iakut notices that Georgians are newcomers in present-day Georgia, and they were not there until David III captured Tiflis in 1228, and a century later they were still small in number. Even in 1832, as Senkovsky states, the numerical structure of the population across all Georgia was as follows: Georgians 101,000 souls, Armenians 56,000, Tatars (Azerbaijanians) 41,200, Ossetians 15,400, Pshavs 2,040, Tushes 2,400, Khevsurs 1,510, Greeks 1,810, Germans 1,040, Jews 500. Total 224,300 persons, i.e. after the declared 17 centuries of being in the territory, Georgians did not make ­ the majority of the population, especially if one considers that all ethnoses living in this territory were named Georgians, although they did not consider themselves as Georgians then or even now. If one accepts the condition that at that time Russians named only Kartvels and Kakhetinians as "Georgians", their share as a part of the population will be insignificant.
Inhabitants of Transcaucasia before the XX century did not use the terms "Georgia" and "Georgians", as each of them considered that they belonged to­ a definite tribe and nationality, which had more essential value. But for Russian officials and military men, use­ of the given term was convenient as it was not necessary to consider which set of nationalities was occupying Transcaucasia, it was easier to name them in a word which did not define anything. As a result, ­ such people as Meskhs, Svans, Gurians and Imeretians have appeared as "Georgians"­. It is indicative that Abkhazians name modern Georgians as Gurdjes.
The argumentation of modern Georgian historians and politicians,­ trying to prove the uniqueness of the modern nation "Georgia", relies upon the ignorance of those inhabitants of Russia, America and Europe for whom the world ­ is presented in such a way that in Africa there live only Negroes, and in the Caucasus, only Georgians.
In modern Georgian interpretation of history, the toponym "Sakartvelo" is used, as it is supposed to be a synonym of "Georgia". According to the meaning of this toponym, this is the country of Kartls. Hence, it ­ can extend only to Kartli, or at best to the Kartli-Kakhetinian kingdom. From XII century this name already covered some ­ princedoms in the territory of Central Transcaucasia, but did not survive. The evidence of it is the incorporation within the structure of Russia of separate kingdoms and princedoms of Transcaucasia in independent form. As long as ­ Georgia did not lay claim to all space within Transcaucasia, use of this ­name was not so essential. In particular, Abkhazia (which ancient ­ historians also ascribe to Gurdjistan), was an independent state till VIII century. Then, till XI century, it was a huge Abkhazian kingdom, and in no way "Georgia". Later, till XIV century it was the Abkhaz-Imeretian (or vice-versa) kingdom, then, with its disintegration, there were other independent kingdoms and princedoms, none of which carried the name "Georgia".
4 The word "Gurdj" is absent both from classical language (in which the Koran is written), and from modern Arabic (see Arabic-Russian dictionary, Moscow, 2000). If it does have Arab roots, it probably comes from one of their dialects. M.Fasmer believes that "Georgia is a newly formed Russian word" (see Etymological dictionary of Russian language, M. Fasmer, 4 volumes, Мoscow, 1986, V1, p. 464)
At this point it is pertinent to consider the topic of Iveria, as in one of the periods of XI century in Transcaucasia there occurred a strengthening of Armenia and the Armenian-Iverian kingdom appeared. At a later time Senkovsky asked the questions: "Where was Iberia, who were Iberians, and what right do Georgians have to appropriate this name?" He also answered:
"Attentive reading of the texts of Strabon, Pliny, Dionysius, Ptolemy, Plutarch, Tatsit and later writers of the classics of antiquity reveals that ­Iberia was actually represented by Ossetia, Imeretia, and Radtcha... Also that Iberian as a nationality never ­ existed... Iberians are the people nowadays named mountaineers, and they could not represent any nationality".
Summarising the presented data from annalistic sources, it is possible ­ to draw the following conclusions:
1) Annalistic materials since VI century report on the country Djurzan, Gurzan, or Kurdj.
2) In early works, the country of Gurdjes is situated in the northern ­ part of the territory of Armenia. Further to the north there is a country of Abkhazians.
3) It is noted that both these states render tribute to the governor of Tiflis for Caliphs. Hence, to the middle of X century, the territory adjoining Tiflis was not the land of Gurdjes.
4) In works of VIII century, the lands of Gurdjes territorially reach to the southern ­ foothills of the Caucasian ridge in the country of Abkhazians, which borders with Alanians.
5) Annals confirm that the Abkhazian people - Gurdjes - ­ went down from the mountains to the vicinity of Tiflis in 1122, expelled Moslems, and began to rule there. This fact is confirmed by medieval history.
6) The medieval history of Transcaucasia confirms the existence during that ­ time, in the investigated region, of the Abkhazian kingdom, into which entered the feudal princedoms of Abkhazia, Kakheti, Ereti, and Tao-Klardjeti. No state, kingdom, princedom, area, tribe etc. with the name "Georgia" is mentioned as existing at the end of XI century.
7) Analyzing the occurrence of the terms "Georgia" and "Georgians", we are convinced­ that mostly they appear incorrectly, often through the ­ tendentious interpretation of Arab, Greek, Byzantine and other documents by later translators in ХIХ-ХХ centuries. This has led to the situation that in the course of ­ formulating history, translators have appeared more influential than historians.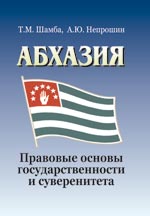 Shamba T., Neproshin А. Abkhazia: Legal basis of statehood and sovereignty. М: Open Company "In-Oktavo", 2005, 240 pages.
---
Далее читайте:
Абхазы - (самоназвание апсуа) автохтонное население Кавказа.

Абхазия (краткая историческая справка).

Исторические лица Абхазии (биографический справочник).